How to report a repair:
Log into the 'MyClwydAlyn' portal to report a repair
The Customer Service Team from 8.00 am to 6.00 pm Monday to Friday on freephone: 0800 183 5757 or email us on help@clwydalyn.co.uk
You can request a call back during office opening hours and we will call you back at no cost to you.
What happens next?
We will book your appointment
You will receive a reminder of your appointment via text or email
An adult must be present to allow our staff access to your home
The area we'll be working on needs to be accessible and clear so that we can complete the job safely
If you need to change the appointment that we've arranged, please let us know 0800 183 5757
Our operatives may call without an appointment if they are in the area but will only carry out the repair if it is convenient for you
Repair priorities
Typically 1 Appointment which we aim to do within 24 hours.
Typically work requiring 1 trade over 1 or 2 appointments we aim to complete within 28 days.
Typically work requiring multiple trades or multiple appointments.
Typically major works to be programmed in with an agreed start date.
Repair responsibilities
Your repair responsibilities are dependent on what tenancy you have signed up to. Leasehold & Shared Ownership will be different.
If you are in a new build property and are still within the 12-month defects period, please complete the form available the contact us page.
The structure and exterior of your home. This means the roof, walls, doors, window frames and floors

Gutters, pipes and drains within the boundary of your home

Baths, toilets (but not toilet seats) sinks and wash basins

Glazing

Electrical wiring, gas pipes, fitted heaters, radiators and water heaters

The maintenance of communal areas and their electrical supplies where provided

Exterior painting
Anything that belongs to you

Toilet seats

Blocked waste pipes

Cookers, fridges (unless provided by ClwydAlyn, for instance in certain sheltered schemes)

Fuses, light bulbs and fluorescent tubes

Replacement of keys

Any damage caused by you, your family and/or your visitors

Decorating the inside of your home
Any work that comes up as a result of faulty workmanship carried out by yourself or tradesman employed by yourself (not ClwydAlyn staff) is a chargeable cost to you.
Additionally, where ClwydAlyn carries out any work that is deemed to be the resident's responsibility, or needs to complete work when you end your tenancy with us, this is also a rechargeable cost.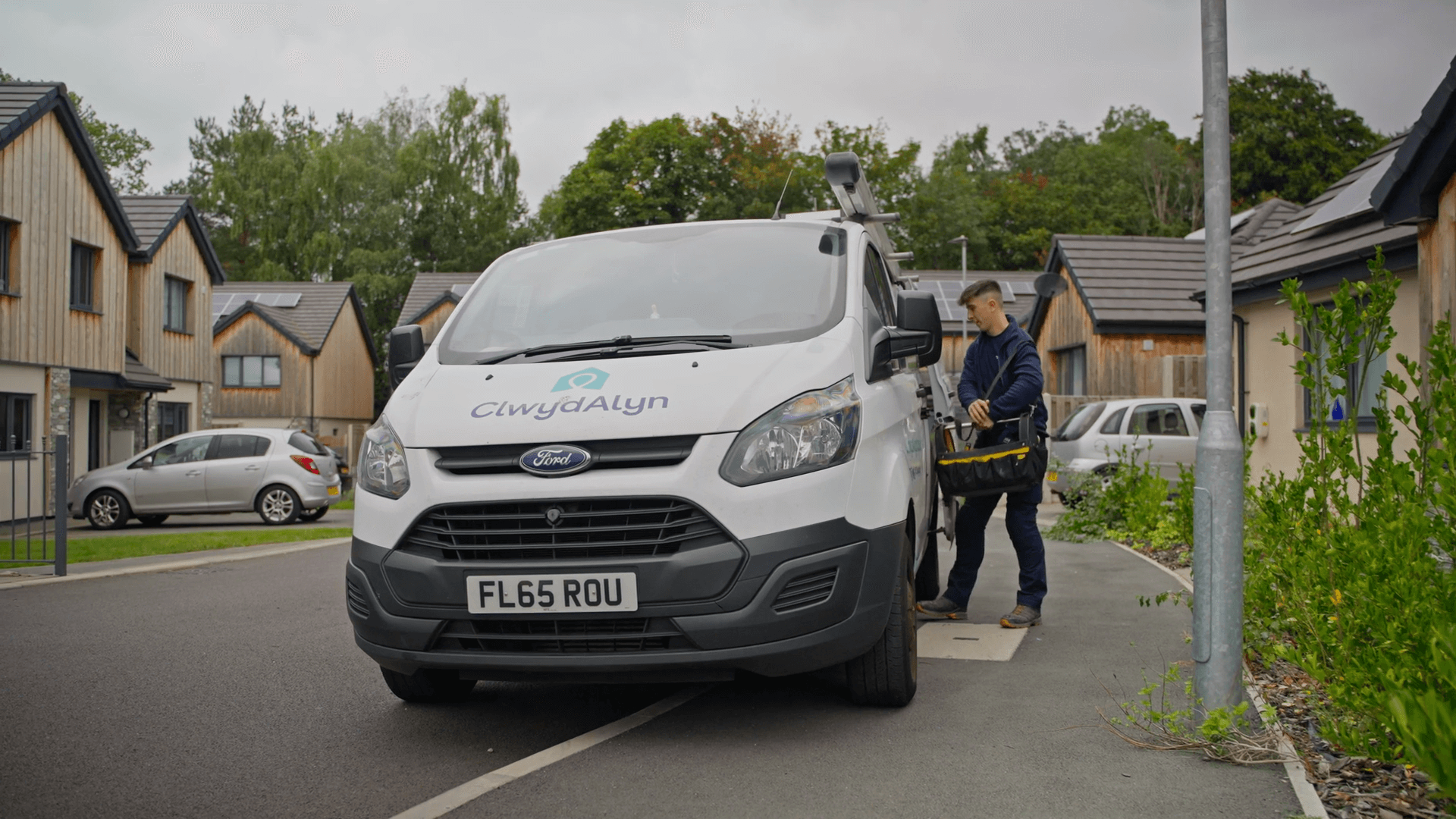 Emergency Repairs
If you have an emergency repair, don't delay. We want to know immediately so that we can get this sorted for you. Our friendly customer services are on hand to help, please call 0800 1835757.
Get In Touch
Emergency repairs
No heating or hot water

Locks or lost keys

Loss of power 

Escape of gas or fumes

Electrical fittings in contact with water

Live or bare electric wiring

Sewage overflowing into the home

Uncontrollable leaks

Burst storage tanks, cylinders or pipes

Faulty communal fire/smoke alarms sounding

Loose or dangerous bricks / roof tiles

Issues with major adaptations – e.g. passenger lifts
Work to your home
We will regularly maintain your home to make sure it is kept to standard.
This work includes:
Servicing all gas & fuel appliances every year

Electrical safety checks every five years

Decorating communal areas in Supported Housing and flats

Maintain communal lifts, fire & smoke alarms and fire safety equipment

Emergency lighting

Remove asbestos

Fire safety inspections to communal buildings

Inspect communal water storage facilities

Maintain open spaces and green areas

Smoke/ heat/ CO2 detectors are tested every year
These are larger works such as
Kitchen & bathroom improvement  

Windows & doors improvement  

Heating systems improvement  

External painting  

Mini projects
Do you have a minor repair that you could fix yourself? Please get in touch and we'll provide the parts!
By completing your own minor repairs, you can reduce your waiting time and carry the repair out in your own time. In some cases, this might reduce the need for you to take time off work to allow the repairs team access to your home.
If you are interested in completing your own self repair, please get in touch with ClwydAlyn's Contact Centre on 0800 1835757, where a member of the team will talk you through the process.