ClwydAlyn Housing in conjunction with Powys County Council is developing 66 self-contained 1 and 2 bedroom high quality apartments for rent, for individuals aged 60 years and over with an assessed care or support need. Priority will be given to residents of the Powys area or have close connections to the Powys area. The scheme will include communal facilities for events and activities, a restaurant, onsite parking and landscaped areas.
Housing management and ancillary services will be provided by ClwydAlyn, whilst Powys County Council will take responsibility for the provision of the on-site domiciliary care.
Neuadd Maldwyn is a neo-Georgian Grade II listed building and was used by Powys County Council until 2021 and before that was the headquarters of Montgomeryshire District and Montgomery County Council. The building dates back to the early 20th Century and the conversion to apartments will be carried out in a sympathetic manner retaining a wealth of its original features. Situated in the centre of Welshpool, Neuadd Maldwyn has local amenities and shops a short walk away. Accessibility is easy via the convenient transport links.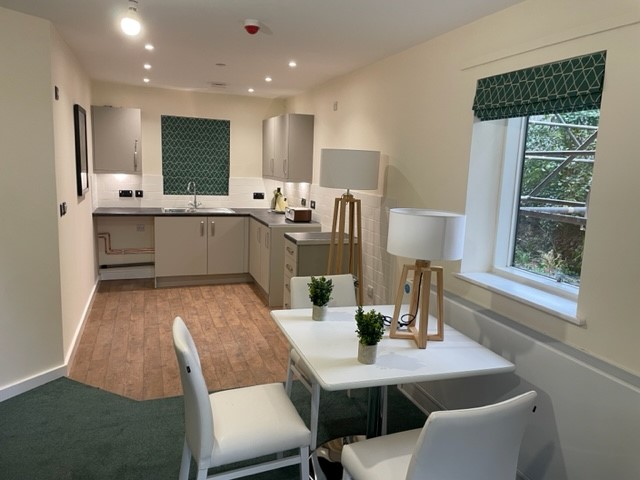 Show Apartment Open
Call 0800 183 5757 to book an appointment now.
How to Apply
If you are interested in being considered to rent an apartment at Neuadd Maldwyn independent living scheme for older people, please complete the application form (see further below) and return it to us as soon as possible via the following contact details:
Customer Services Team, ClwydAlyn, 72 Ffordd William Morgan, St Asaph Business Park, St Asaph, Denbighshire, LL17 0JD.
Email: neuadd.maldwyn@clwydalyn.co.uk
You can complete the application form online too; however from experience and feedback from others, we do recommend completing a paper copy.
When applying online make sure to have the most up to date Adobe or PDF Reader. Download the application form, save it to your computer, you can then add your details / complete it electronically. Once complete and saved, send it to: help@clwydalyn.col.uk
Videos
Independent Living for Older People
Neuadd Maldwyn - March 2023
Neuadd Maldwyn - May 2023